Testimonials
"I had no clue my "market value" with Colombian women was this high."
I had a great time here in Barranquilla! Your team is very professional with TOP SHELF customer service.
"We have started planning our family and thanks to your marriage agency our fantasies are being answered in reality. You have the best of all agencies for someone looking for something different in their lives of another culture."
I have to say I am impressed. With absolutely no false humility whatsoever I HAD NO IDEA so many gorgeous women would be interested to know me, I´m blown away.
"I just stumbled across your website. I am astonished. It is easily ´the best of the best´ among websites for Colombian marriage agencies. Excellent design and very easy to navigate. Far more importantly, there is almost zero bull. I applaud the straightforward nature of your description of Colombian marriage agencies and the accuracy of your advice."
"Please know that I am completely impressed with the high quality of service at International Introductions and have no desire to work with any other Colombian marriage agency."
"I am very conservative and have been very skeptical about this process, but even now, all I can say is ´WOW,´ but I guess that you get that a lot. I have thoroughly enjoyed dealing with you as you have been very patient and helpful to my every request."
"I´ll be honest: You have the best customer service of any Colombian marriage agency I have dealt with or even heard about so far. Most marriage agencies don´t try so hard or even give you any updates about what is going on. I doubt any would have even told me they were having trouble locating one of their listed women in the first place Thank you very much for all the time and effort you spent getting this order done. You definitely did more than most services would/did."
"I am so very impressed by International Introductions and your service. By making her day you made my day. I can´t put into words how much I appreciate your dedication to service and how impressed I am with the business you have. My hat´s off to you. Thank you for everything."
"I want to say thank you for the good business and all your help you provided me in finding a good wife through your agency."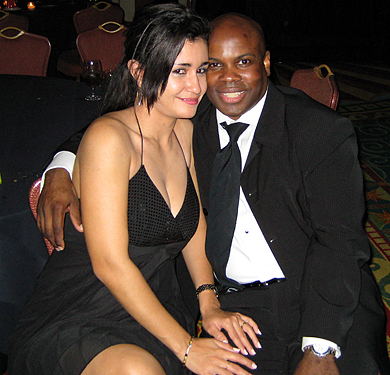 "I sure appreciate your site. You got it going on. Excellent site!!! I especially like the profile portion where they share a little about themselves. I´ve been browsing through quite a few other sites and yours is the best by far. I think that also has to do with your customer service, also, first class!!! Excellent!!! You definitely got it going on!!!"
"I love your web site and services, you are the best. I knew for certain that I´d found the only service I´ll likely ever need, and the only one that I feel confident in using."
"I CAN NOT EXPRESS MY GRATITUDE ENOUGH FOR YOUR ORGANIZATION. IF I MEET YOU I WOULD HAVE TO HUG YOU I FIND YOU TO BE A GOOD MAN!"
"If you ever need a quote from me explaining how excellent your introduction service is from beginning to marriage, just let me know. Thank you again. I have fallen in love with the most beautiful and intelligent woman I could have ever imagined."
"I appreciate your assistance and valuable time. Thank you! International Introductions is by far the best marriage agency on the net. The presentation and services offered are exceptional."
"Thank you once again. Your customer relations gets a 10 out of 10!"
"Thanks for all your hard work. Thanks for treating me so well."
"Please know that my wife and I are completely impressed with the high quality of service and honesty of International Introduction from day one. If you are looking for your Latin Wife, contact International Introduction and let your Dreams Come True. Thank you so much."
"Thank you, guys, for a wonderful experience."
"Your FAQ section has in fact answered more of my questions. The other company I was interested in makes it seem as though everything is an emergency. Are they going to run out of available women in Colombia this week?"
"I enjoy your diligence. Your hard work shows through your web site, through your office, through your elegant homes in Colombia, through meeting you personally. I am impressed with your ability to provide answers to my questions and the promptness of your answers. You are on top of all aspect that fosters and promotes a relationship and its end result of marriage. Colombia is beautiful! Thanks. Great job and keep it up!"
"Thanks for getting all that done. I appreciate it. You run a very good service."
"First of all, let me say, I had a fantastic trip down there and I hope to return soon to continue with one or more of the friendships that I started, with the final goal of a long term relationship."
"May I say that I am surprised by the responses. I was a little skeptical at first, I guess because of the lack of responses I received on U.S. sites. I think it´s great. I really enjoy this and look forward to the continuing process. Thanks again for your attention and providing an excellent service that I am impressed with! Absolutely terrific!"
"It is surprising that I have never seen any mention of your marriage agency on any of the forums. At one time, I was very vocal about the misleading practices at Colombian marriage agencies on such forums. I still read the forums, but I don´t post any longer. It´s unfortunate that most Colombian marriage agencies don´t realize that there is no need to mislead anyone – neither American men nor Colombian women – in order to be successful. I truly hope your more-straightforward approach succeeds."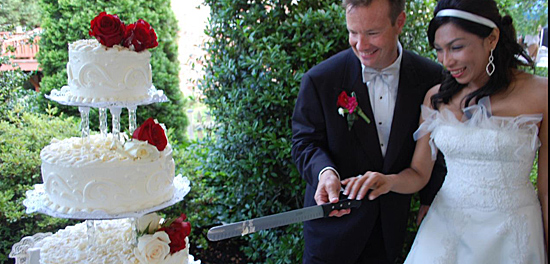 "I obviously wanted to thank you once again for bringing Mary into my life. I know it was more of a business transaction and something you do all the time, but for me it was life-changing and part of my life that Mary and I will never forget."
"When I saw my wife hit his website my ass was on the horn with Jamie 5 minutes later and I was in Colombia within a month. My boner was so big it arrived 3 days before I touched Colombian soil."
"I had an excellent time in Colombia again and wanted to thank you for you service. I look forward to returning again soon. First off, I wanted to express my complete appreciation for Michelle, she did an outstanding job serving as my translator. Both Leymis and I were so comfortable with her and so grateful for the excellent ability to translate all of our thoughts. She also was so helpful in gently correcting me each time I would try to express myself in Spanglish. Michelle was so accommodating and helpful in working with us in our schedule and navigation through the city. And she was always one step ahead of us with figuring out the next step in the day so that we could focus on each other. Even more important, she was excellent at listening to me and gave me much great advice. She was so helpful on giving insights into Colombia culture and the thinking of the women and is a big reason that I want to continue to use your services each time I return to Colombia."
"I wanted to send you a note and let you know how thankful I am for your service and how much the translator helped me while I was at the agency. She was invaluable and truly an asset to you and your company. Me and Jennifer are very happy together and while we were in Cartagena, I proposed and she said yes. We are now planning our future."
"Jamie, thank you and your team they were the best. The translator made me feel really comfortable and was there for me and had my best interest in heart. I was so impressed with her as they made the experience. I have met the woman of my dreams."
"I have used your service and have met many great woman and I want to say you run a very good business. I left having two great connection. I just wanted to say thanks to you and your staff for your help in my quest."
"I got to tell you the translator has a great work ethic and cares about clients and the girls. I'm sure you know she is an asset, but it's probably good to hear from clients occasionally. The service rocks too, I'm had a blast. I made a good connection and I can't wait to tell every single guy I know about this place. On a scale of one to ten the service you provide is, as I'm sure you know, a ten."
"Wow, thanks for your great work, now I need to find time to call. Thanks for the tip, I think that might help my chances with her. I appreciate all your hard work. Hopefully, I´ll find a love like yours."
"To the credit of Jamie and his staff I am not the easiest person to deal with. And yet Jamie and his entire staff have managed to deal with me very well, pleasantly even, all while executing excellent customer service and timely responses to my numerous emails. Whatever you're thinking, my advice is like that of many others, just go on the trip. And secondly, listen to the advice that is offered by Jamie, apparently years of working with helping men meet women down there really does qualify him to give advice, trust me on this."
"I do not believe I have ever been inspired by an experience as a customer enough to care to write a review for the service provide, whatever the service might have been. But my dealings with International Introductions have been so incredible that I feel it would be unjust to not write a review. I am 38 years old. I am in construction and I am what most would consider middle class America. I mention this because before I pulled the trigger on going down there, I had concerns that this is something reserved for the wealthier folks. Not so. The trip was incredible and exceeded my expectations."
"Great introduction service. You´re an honest man. Thanks a million."
"I enjoyed your web site and think you are doing a great job with your programs to help individuals meet Colombian women for marriage. I find your success story encouraging! Thanks again for your help. I appreciate it."
"Just wanted to let you know your agency hit a grand slammer in my ball park."
"WOW! Now I see why Jamie's agency is so popular!"
We Make Happen What Can´t Happen Alone
One Happy Man… Many Hopeful Women
Are Colombian Women Interested In Marriage to Non-Americans?
Where the man is from is not relevant to the introduction services we would provide. Our clients are English speaking men from Australia, Canada, England, Western Europe and the United States. We have found Colombian wives for men in all five places. Only a few Colombian women have indicated an interest in men from certain regions. The women that join our Colombian marriage agency understand that we cater to foreign men and I have yet to see the man's country factoring in as a concern with any Colombian woman. For Colombian women, what matters is not the location, but the man himself.