I learned firsthand that many South American mail-order bride's marriage agencies claim to provide introductions to South American women, but really only peddle deception.
Unscrupulous business practices in South America are unfortunately very real, yet the Latin beauty for you to discover is real as well. From this recognition came our determination to deliver a legitimate Colombian marriage agency with honest opportunities.
To combat the added complications in men meeting foreign women, we provide coordination, communication, and counsel to improve the odds of you finding a good partner. International Introductions delivers on this commitment and provides a path for discovering lasting love beyond the borders with exotic South American women.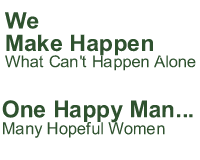 Does It Matter How I Look to South American Women?
What the South American Mail Order Brides Services Say
"South American women have very little interest in how handsome you are."
"Latin American women are not overly concerned about your physical appearance, age or social status."
"In most cases, your age or looks aren´t primary concerns to South American women."
"For the women on our service looks may play a minor role."
"When a Colombian woman meets an American man she is 9 times out of 10 attracted to him no matter what he looks like."
"You could be 5'2", 170 pounds, and marry a hot-looking Latin woman with model looks."
"Looks are not important to Hispanic women."
What My Experience with South American Women Will Tell You
South America is not some other planet where the rules of attraction do not apply. Competition does not vanish south of the border. You are competing with other men just as you do in America. Your advantage is that you are a much stronger candidate here than your local equivalent. Furthermore, since very few American men attempt this option your likelihood of success is even greater. The South American mail-order bride marriage agencies would have you believe that you can get any Latin bride you want, but this is not true. Without a doubt, you can get better, but your qualities determine just how much better. Physical appearance is certainly a factor, but I have never met an American man with a foreign Hispanic bride who believed he could ever get such a caliber of a woman at home.
Are There Any Hispanic Bride Guarantees?
What the South American Mail Order Bride Marriage Agencies Will Tell You
"We do not guarantee email addresses, or phone numbers and we do not guarantee responses."
"We do not guarantee email addresses and we do not guarantee responses to your email or written correspondence."
"For ten bucks we offer neither refunds nor assurances of delivery."
"Guarantee: If you feel our matchmaking service does not meet your expectations, we will send more girls FREE."
What's Best for You
So, you get more of something that wasn't any good, to begin with. What a bargain! We, on the other hand, make a simple commitment. We say what we do and do what we say. All the Latin women on the website are current, available and joined our marriage agency voluntarily. Our work does not end with your purchase, either. We are involved in the process of long-distance matchmaking and we will use a variety of methods to facilitate that end. No other Latin marriage agency will do as much for you. What you see in them and get from us is our most effective promotional tool. By all means, I encourage you to compare us to any and all of our competition.
Is Membership Required?
What the Latin Mail Order Bride Services Will Tell You
"You must be a member."
"Join Now! Benefits of Membership: More Photos, Complete Profile, Email Service."
"Lifetime Membership $695" "Gold Membership (for one year) $595 USD" "$299 Three Months Membership"
"$495.00 Agency (1) Year Membership" "$495 membership" "Life-Time Membership $349" "1-year Full Gold Membership: US $395.00" "Senior Membership ($975)" "Lifetime Membership $795.00"
What's Best for You
The Spanish mail order bride's services obviously plan on you being around for a while. We deliver a quicker approach. We give you all the benefits without the fee obligations and duration of a membership. International Introductions does not need to lock you in with a membership. Our services stand on their own. Since we´re not a club, we´d rather you "join" with your new Hispanic bride instead of with us.