The Latin Introduction Experience
"I wanted to write to you to thank you for having such a wonderful staff at International Introductions. I wanted you to know that everyone treated me like a king, especially (Translator one) and (Translator two), and my experience using your romance tour in Barranquilla was great. You were right, Jamie, I met more women in 10 days than I could have met in a lifetime here. (Translator one) and (Translator two) kept me so busy I had to ask them to slow down. They both said the same thing to me on separate occasions, that Jamie would want you to be meeting women and dating as much as possible, so let´s get going.
Jamie, as an owner of a business myself, I think it is very important to let you know that (Translator one) and (Translator two) represented your company extremely well and referred to you many times over the course of my stay. They both have a tremendous respect for you, and that says a lot for you and your marriage agency. I know it makes me feel good when I hear people compliment the people who work for me, especially when I cannot be there myself. I feel secure that the business is okay in my absence, but of course I still worry no matter how good things are going. International Introductions provides a service that people can trust.
I found (Translator one) to be an excellent facilitator in the groups as well as on the individual dates. She probably would make a good teacher. If there was silence or a lull in conversation, (Translator one) knew just what to say or ask to keep the conversation moving along comfortably. Also, she proved to be more than just a translator and facilitator: she was a great tour guide. I traveled to Cartagena one day and (Translator one) was as magnificent as the city, when it came to her knowledge of history and architecture. You can tell she enjoys what she does. Her feedback on the girls was honest and invaluable to me when it came to making decisions. She was also very serious about the whole process of meeting and dating the girls. She gave this credit to you. I don´t know if you train the people who work for you or not, but whatever you do, it is working.
(Translator two) was a very pleasant and warm person and had her own style as a translator. I was comfortable at all times with her. Her personality was remarkable, and I quickly felt I was in good hands. This made me feel secure because, honestly, I felt uncomfortable switching translators in the middle of my trip. But within the first hour of being with (Translator two), my discomfort disappeared. (Translator two) was very intelligent and able to pick up my feelings with little or no conversation. Merry Christmas, Jamie. Thank you for a wonderful experience."
"From a service standpoint, your organization is absolutely top notch; my communications both before I came and during my trip have been flawless. Though I only had a day to work with her, (Translator two) is an absolute machine when it comes to translating. My second night with (Latin Introduction one) was pivotal for my trip, and (Translator two) was a huge part of it. (Translator one) also has excellent translation skills, but her street and people skills are even better. I can´t imagine how much money she saved me in cab fare alone. Early on during my trip, I started referring to her as my pit-bull, as she literally argued a cab driver to the point of submission over a cab fare. She expertly handled my safety and always kept an eye on my personal situations as well, offering an extra (and sometimes better, always useful) opinion for me. Obviously her opinions would not have been any good if I didn´t feel I could trust her, but I was instantly able to read that (Translator one) also has her client´s best interests in mind.
Her real strength, however, relies on her people skills. (Translator one) made (Latin Introduction one) feel completely comfortable; in fact, on our second night, (Latin Introduction one) asked me where (Translator one) was. Without her confidence in and liking of (Translator one), who knows if (Latin Introduction one) and I would have been so successful. She added to the environment, rather than just being a translator, and I personally count her as a friend. I would like to work with her again on my return trips.
(Translator one) also had a great read on (Latin Introduction two) (quite similar to yours), and truth is both of you saved me a great deal of trouble and a lot of time since I didn´t go in that direction. In fact, I came to figure out that (Latin Introduction two) was almost exactly like my ex, and there is a reason why my ex is my ex. I owe you both a great deal of gratitude, but I´ll get to that after my review.
The lodging was great. Barranquilla is hot as hell, but I found the back porch very amenable for just hanging out when I needed some down time. My room was cool and conducive for a romantic environment. The overall layout was great and the design was lots of fun.
That brings me to (the house keeper). Well, I am sure you are aware of what a gem you have in her. She completely understood my rudimentary Spanish, and we did a great deal of talking over the course of my trip. I understand a heck of a lot more Spanish than I can speak, and (the house keeper) was even able to help explain to (Latin Introduction one) how to understand gringo Spanish and how to explain things better to me. Both (Translator one) and (the house keeper) were key to me finding the rhythm that (Latin Introduction one) and I currently enjoy. I hope all of your clients take the time to get to know her.
On the service end, (the house keeper) always made sure my living quarters were impeccable. She quickly turned around some laundry and ironing I requested, and then laundered all of my dirty clothes before I left without me requesting. One morning when I found myself temporarily out of contact with (Translator one), (the house keeper) brought me food from her place when she realized I hadn´t eaten. Her cooking is excellent! I made sure to return the favor and invite her to dinner on an evening I cooked for (Latin Introduction one). Just a nice quiet dinner and evening between friends and lovers… and it was (Latin Introduction one) favorite date. Pretty impressive considering we had 15 different dates in 10 days! All in all, what I´m getting at is that your staff was a major asset in bringing (Latin Introduction one) and I closer together.
The dates set up for me were great! The first 2 dates I had were excellent… obviously since the first was (Latin Introduction one), and the second was a lot of fun. I didn´t particularly hit it off with the morning date the next day, but that´s because I got an "I´m an expensive girl" vibe from her. My lunch date was cool and interesting, and had she not told me she loved to fight and argue (the number one thing I don´t like about American women), I probably would have scheduled a second date (which in hindsight, I would not have been able to fulfill).
The introduction groups are a great way to meet a lot of Colombian women really fast. I´m not sure how every guy handles it, but public speaking is a way of life for me and I was fully comfortable in a room full of beautiful Latin women. I´m still surprised just how sweet the women of Colombia are. I had an idea, but who could guess that so many are so unassuming. There was a very real possibility in one of the groups for me, and if things hadn´t progressed as far as they did with (Latin Introduction one), I´m confident I would be speaking glowingly about her instead. The truth is I decided not to meet with a second girl who I was certain shared an emotional connection with me, because I already had such a strong connection with (Latin Introduction one). Good to know there´s always a reason to return if things ever go south.
Now the most important part of my trip: (Latin Introduction one). After our first date (she was my airport pickup), I asked (Translator one), who the heck was she? Because of the long delay on my trip, I´m quite familiar with many of the profiles and was stumped when I didn´t recognize an absolute 10. (Translator 1) went on to tell me that she wasn´t even on the website, and that you had gone through your old files and thought she might be a fit for me, and had (Translator one) contact her as a hand picked choice for my airport pickup. The extra work paid off. I don´t know if you were throwing darts or had a really strong hunch, but (Latin Introduction one) is exactly the person I was looking for. She´s strong and passionate but still remains humble. She was raised properly in a house full of love and comes from the kind of family I want to be a part of. She is not desperate under any circumstance, and I am proud to be the man she has chosen to be with. And she´s super fun and shares the same sense of humor… even my more offbeat stuff. We´ve hit the point where we don´t even need to understand the words because we can read each others expressions while speaking.
Without your extra time and effort I would have been with somebody else. And without your "wake up" email, I would probably be in a situation that wasn´t right for me. Thank you, Jaime. Your marriage agency is excellent and you are very good at your job. I have a little bit to figure out before my return, but I will definitely be returning. I will be continuing with the communications services immediately, and I look forward to working with you and your business again in person in the near future. All my best wishes and thanks for helping me find my path to happiness; truth is I didn´t want to leave."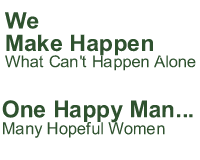 "Finally, my thoughts on my Romance Tour to Barranquilla. My translator and (Latin Introduction) were waiting for me at the airport. They were very courteous and it was a nice greeting. (Translator) took charge and made me feel comfortable with her at the helm. (Latin Introduction) was, pretty and sweet. After meeting (Latin Introduction), I thought that I would see her again, but after the three of us sat down and talked, the jam-packed, nonstop action began. My first group meeting happened the same night. I was tired but felt good. The women in the group were wonderful. All were personable, attentive, and seemed interested in what I had to say. (Translator) was very good at translating for me. She was able to take the questions and responses I gave in the sequence I gave them. It wasn´t necessary for me to speak in single sentences. I could tell a little story and knew with faith and trust that she told them what I said with clarity and in proper sequence. She never abbreviated what I said."
"First let me thank you for a great trip. The Romance tour was incredible, and the experience of personally meeting you was equally enjoyable. (Translator one) and (Translator two) were outstanding in making me feel comfortable from the moment I arrived, and they made me feel at home in Colombia. The people I met made me understand what great people the Colombians are. I look forward to the day I can return."
"I would like to say that (Translator) did an excellent job from beginning to end and indeed everything about my time (Romance Tour) there was exceptional and very well organized. (Translator) is continuing to help and give me advice. I was very lucky to find a Latin woman and hopefully things will work out! But even if I had not met her, I do want to repeat what I think I mentioned to you in person; that is, you should not feel that this would reflect poorly on your services, as with such a decision it is necessary to find the right person. Not finding someone is not the worst thing that can happen. Rather, the worst thing is settling on someone who is not the right one. Many thanks for everything and for being so professional and actually caring about everything being right. I do believe that I would have wasted my time going to any other marriage agency there."
"I just want to let you know that I had a great time (Romance Tour) in Barranquilla and met a lot of nice Colombian women. (Translator) was a real good translator, and she did a good job setting up appointments for me. (Translator) also helped me stay focused on my goal of meeting that special woman. It is real easy for a man to get distracted, and forget why he came to Barranquilla. The times that I lost my focus, (Translator) reminded me about my future. Then I started to concentrate more on all the inner qualities I liked in a woman. After meeting and dating several women, I think I met a special woman that has all the inner qualities I like in a woman. Her name is (Latin woman) and I plan on keeping in contact with her through telephone and e-mail. I want to take the time to get to know her better before I get engaged. I feel that things work out much better when two people take their time to know more about each other. I just want to thank you and the marriage agency for everything. It has been a great trip to Barranquilla and an excellent experience for me."
"I wanted to send you a note and thank you very much for your introduction services while I was in Barranquilla. I very much enjoyed my stay and experience. The real reason for my note is the following. I have to tell you that one of the most, if not the most, impressive thing for me was meeting (Translator) and being fortunate to have her as my translator. (Translator) is an excellent translator, but her skill set is so much more than that. She is an excellent judge of character, can quickly assess issues and environmental situations, and exhibits class in all she does. I was impressed with how classy she was and with how well she represented your marriage agency. I got the distinct feeling that not only does she take her job very seriously, but that she is passionate about seeing your clients happy. That really means a lot. You are fortunate to have her. If I come back to Barranquilla she would be the #1 reason my money would be headed your way. Many thanks again for the incredible value and service you offer. Hope to see you again down the road."
"I have to admit, I had an incredible experience through International Introductions. I arrived home last night, wanting to be back in Barranquilla. All the Colombian women I met were beautiful and smart. The introduction service was first rate. (Translator) was fantastic. She did an incredible job of accurately and quickly conveying and translating not only my words but my sentiment, which can often be lost in translation. She was extremely diligent in assisting me in all aspects of my trip. Any bit of help or assistance I needed, she handled it quickly. She made me feel at ease and comfortable throughout the entire trip. I would un-hesitantly recommend your services."
"From the beginning, when I first started my quest to find the perfect partner, you have been there every step of the way for me. Even after I met her, your service is still as good if not better. Whenever I return to Barranquilla to visit her, you are always there for me. From the airport pickup to the hotel arrangements to providing me with my translator, who by the way is more like a personal assistant for me when I am there. I can´t make a stronger recommendation to other guys to take advantage of the services you provide even after you have met that special someone. Having (Translator) with me gave me complete peace of mind and allowed me to focus on (Latin woman) and getting to know her family. (Translator) took care of all the other details so I didn´t have to worry. On the morning I was leaving, there was a knock on my hotel room door and room service brought my coffee to the room so I would not have to go to the breakfast area at the hotel. I love my coffee in the morning and (Translator) took it upon herself to tell the hotel to bring it to my room and they didn´t even charge me. It might be a small detail, but these little things mean a lot and it shows that International Introductions only hires the best people for the job. This was just a small detail so you can only imagine how (Translator) handled the rest. It was excellent. So, Jamie, I thank you again for taking care of us American guys in Barranquilla, and I know you will always be there with the same consistent service that I am accustomed to here in New York."
"I wanted to share my initial impressions of my trip to Barranquilla and your staff. I could not be more impressed with the way I have been treated since I arrived on Friday. I believe I have meet most of your staff. They have been attentive to my needs courteous and extremely helpful. My driver is very professional and somehow drives safely among the crazy Colombian drivers. Every place I have been I am dropped off and picked up at the door with a feel of limousine service. My translator has gone above and beyond my expectations. She always has my safety as her first priority, this is reassuring for a foreigner in Colombia. Her translation is spot on. She keeps the conversation lively funny and engaging for both me and my date. She provides great insight and if asked honest opinions of the character of the ladies I have meet. I want to thank you and your staff for a great beginning to my visit. I am really looking forward to the rest of my stay. This has proven so far to be an excellent decision for me to use your agency and come to Barranquilla.
Tomorrow I will be heading home. This has been an amazing experience for me. The Colombian women I have meet seem to have so much to offer in return for just a little respect and common decency. I cannot tell you how refreshing this has been coming from the me me me American women. I am left with the decision of how to choose just one. My translator has continued to be a great asset to me and has become a good friend as well. She has continued to exceed all my expectations and managed my schedule perfectly. I have had very little down time and I believe I have made the best use of the time while I have been here. Thank you for everything,"
"I wanted to extend my deepest thanks and gratitude for all your help in making my dream start to materialize. I have met a wonderful Latin lady through your marriage agency. We are falling deeply in love with each other and making plans for our potential future together.
This would not have been possible without the in-depth care of your entire staff. Your staff used careful attention to each significant detail and process to make this happen. The translators were friendly, personable, and extremely knowledgeable. The suite I stayed in at the agency was more than adequate and very comfortable indeed. I felt right at home and very welcome 24 hours a day there.
I am planning in a few months to be back to propose to my girlfriend and get her started on English lessons through your marriage agency. I feel alive again at having met such a spectacular Colombian woman as (Latin woman). This is just the beginning, but I feel with your help through all these processes our dream can become real for (Latin woman) and I.
I can never say thank you enough for all your help and when the day comes that I am holding my glass of champagne up in the air to toast our marriage, I will certainly include your contributions in that prayer of thanks."
"Jamie, I wanted to thank you once again for your hospitality, the apartment and the location was the perfect place for entertaining guests and even a little shopping! I know that I contacted you on short notice, so it meant a lot to me when you were able to accommodate me, and introduce me to so many beautiful ladies, not to mention the one that I plan on staying in touch with. It's no secret that I came to Colombia a couple weeks ago with another agency, in another city- because I had been to International Introductions with you in Barranquilla before and I thought that all agencies operated the same, but they don't, and my trip turned out to be a disaster! You did for me with 1 weeks' notice what these guys couldn't do with months of planning! I didn't get the personal touch that you and your staff add to the experience. I like that you guys have actually met the ladies before, and when a translator accompanies you on a date the lady is already comfortable with him/her, I also like that your staff knows the city well and was able to make great suggestions for dates. The other guys didn't have this so the dates were very uncomfortable. Imagine going on a date and you and the translator are complete strangers to the woman, or man from another country having no idea where to go or what places are safe for foreigners. I could go on and on about why I won't ever go to another agency but I'm sure you heard it all before, so I will just say thanks again my friend! Hope to see you again soon!!"